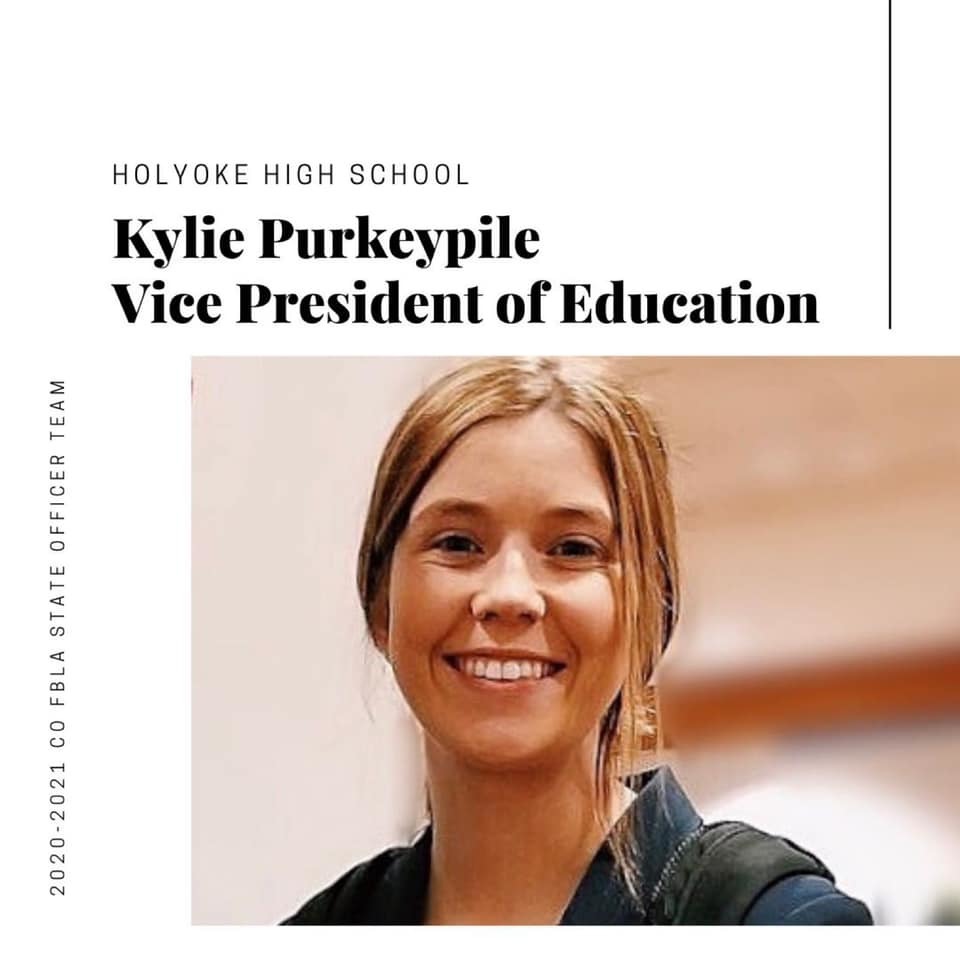 FBLA Colorado Qualifies 14 from Holyoke
Lori Nelson
Tuesday, May 05, 2020
Colorado State FBLA looked a little different this year in that it was held virtually. Holyoke FBLA had 31 members compete by taking online tests and creating their presentations electronically. Out of those members, 14 students qualified for Nationals. Those qualifying for Nationals include the following:
1st Place – Community Service (Lali Marquez, Caleb Deaver, and Lauren Herman)
2nd Place – Journalism (EV Vasquez)
3rd Place – Local Chapter Annual Business Report (Kylie, Tamara Penzing, Emily Trejo)
Partnership w/Business (Emily Jelden, Josie Herman, Shianne Willmon)
Intro to Information Technology (Diego Jimenez)
Intro to Business Communication (Johny Quintana)
3D Animation (Alma Alejandre and Jimena Nunez)
In addition, the following students placed in the top 10: Nain Vasquez, Accounting II; Kenneth Lindholm, Computer Problem Solving; Clover Adler, Word Processing; Gage Sprague, Cyber Security; Correy Koellner, Introduction to Business; Kristin Vieselmeyer, Graphic Design; Ethan Schneller, Graphic Design; Stephen Murray, Computer Applications; Alec Sprague, Business Law; Aaron Sierra, Word Processing; Kailar Hayes, Cyber Security; Cade Killin, Introduction to Financial Math; and Sabryn Burris, Graphic Design.
The virtual awards closing session consisted of the 2019-20 State Officers giving their farewell speeches, including our own Kylie Purkeypile. Kylie served as Colorado State District 4 officer during the 2019-20 school year. Those elected to serve as officers for the upcoming year were then announced, and Kylie was elected Colorado State Vice President of Education. Some of her main duties in this role will be to publish FBLA Today, send articles to the national organization, organize information on FBLA's social media sites, and promote awards and competitive events to members and also promote middle level FBLA.
National FBLA was to be held in Salt Lake City June 29-July 1. However, because of Coronavirus the conference will also be held virtually at the same time. Our local FBLA's social media sites will post information about the event so that our community can support these students by watching the awards event live.