A day after the school district administration thanked the community for their support over the shut down and restart,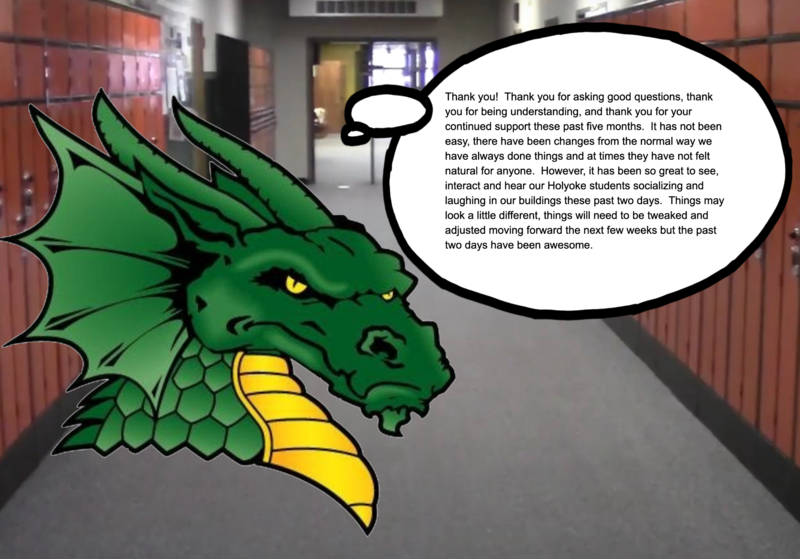 Elementary Principal, Mrs. Kammer, offered her own note of gratitude in English and Spanish to the students, parents and staff of her building.
THANK YOU!
The Holyoke Elementary School would like to thank the parents and the community for all of your help and understanding on the first days of school. Your patients with our new system truly helped set the tone for our student's on the first day of school! Our students were in the building by 8:20am on the first day and by 8:05am on the second day! This would not have been possible without the help and understanding of our parents.
I cannot express how much this warms my heart to see our students back in our school. They are laughing, smiling, and extra polite! I have goosebumps just thinking about it.
Thank you for your continued support! Please continue to fill out the form daily, as this helps the mornings run smoothly.
We are truly blessed!
Mrs. Kammer
¡GRACIAS!
La Escuela Primaria Holyoke desea agradecer a los padres y a la comunidad por toda su ayuda y comprensión durante los primeros días de clases. ¡Su paciencia con nuestro nuevo sistema realmente ayudaron a establecer el tono para nuestros estudiantes en el primer día de clases! ¡Nuestros estudiantes estaban en el edificio a las 8:20 am el primer día y a las 8:05 am el segundo día! Esto no hubiera sido posible sin la ayuda y la comprensión de nuestros padres. No puedo expresar cuánto me alegra el corazón ver a nuestros estudiantes de regreso en nuestra escuela. ¡Están riendo, sonriendo y muy educados! Se me pone la piel de gallina con solo pensarlo.
¡Gracias por su continuo apoyo! Continúe completando el formulario todos los días, ya que esto ayuda a que las mañanas transcurran sin problemas.
¡Estamos realmente bendecidos!
Sra. Kammer