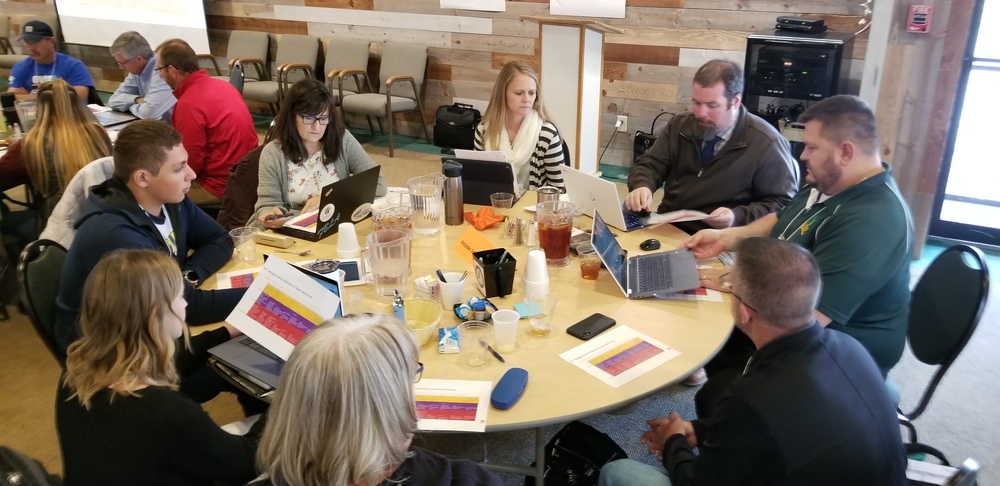 Homegrown Talent Initiative Team
Lori Nelson
Thursday, November 21, 2019
Members of the Homegrown Talent Initiative traveled to Canyon City on November 20-21 to continue the work they started in Breckenridge in September surrounding a grant received to develop an alternate path for graduation, based off of work-based learning, in Holyoke and possibly surrounding schools.
The team developed the following aspiration: Our goal is to create a well-structured program starting in the 5th grade that will define an alternative pathway to a high school degree. The program includes an exposure to multiple career opportunities, the potential for post-secondary education credits, workforce readiness, and creating business partnerships within the community.
By building partnerships with stakeholders: business, students, parents, NJC, BOCES, school, and Economic Development, the Homegrown committee will be able to gather data to develop new career pathways. The goal is that everyone in our community will have a voice in determining what is needed to help students graduate with skills needed to begin a meaningful career or continue their education. It is also our goal that this voice will help determine what is needed to help our businesses and community thrive.
Team members were able to visit Canon City High School to look at their exemplary program developed that includes alternate pathways for graduation, strong internships, work-based learning, required project-based learning, and capstone projects. Team members also visited TechSTART, consisting of several technology-based companies.
Those attending included Kyle Stumpf, Shane Walkinshaw, Lori Nelson, Trisha Herman, Carrie Knudson, Victor Baeza, Dani Brandt, and David Mauler. Those individuals serving as core members that were not able to attend included Angela Powell, Bret Miles, Summer Maloney and Joe Beckner.