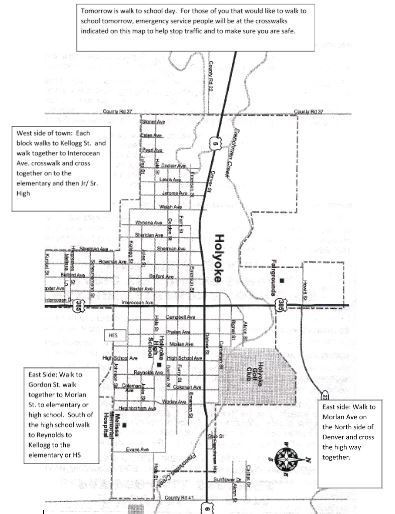 October 10 is Walk to School Day
Andrea Kammer
Friday, September 28, 2018
Holyoke Elementary School will join schools from around the world to celebrate International Walk to School Day on October 10, 2018.
Walk to School Day events raise awareness of the need to create safer routes for walking and bicycling and emphasize the importance of issues such as increasing physical activity among children, pedestrian safety, traffic congestion and concern for the environment. The events build connections between families, schools and the broader community.
West side of town: Each block walks to Kellogg St. and walk together to Interocean Ave. crosswalk and cross together on to the elementary
Southeast Side: Walk to Gordon St. walk together to Morlan St. to elementary or high school. South of the high school walk to Reynolds to Kellogg to the elementary.
Northeast side: Walk to Morlan Ave on the North side of Denver and cross the highway together.
Click to open a map of the walking route.