Holyoke Schools Hosted the 2018 LPAA League Choir Concert on Tuesday November 13, 2018.
The Junior High Chorus was directed by Margie Camp and accompanied by Rachel Lowry.
The High School Chorus was directed by Teresa Rotert and accompanied by Deb Jochum.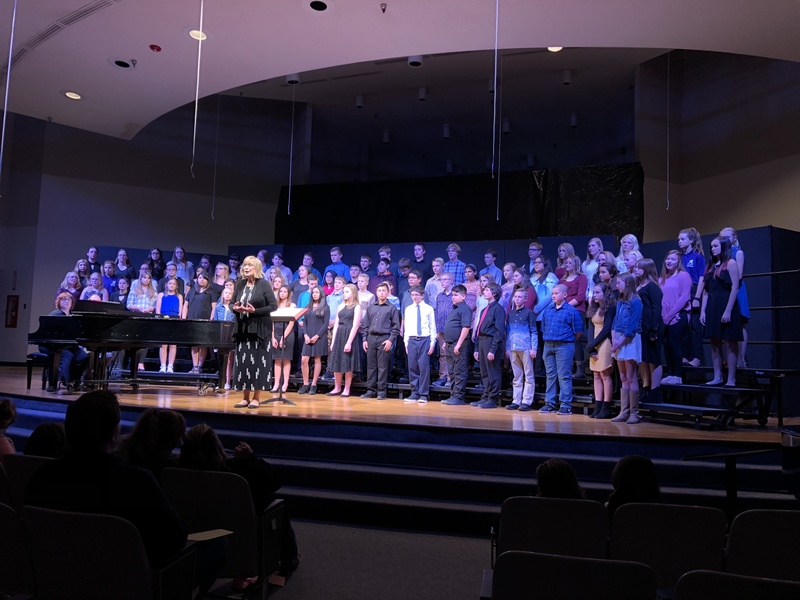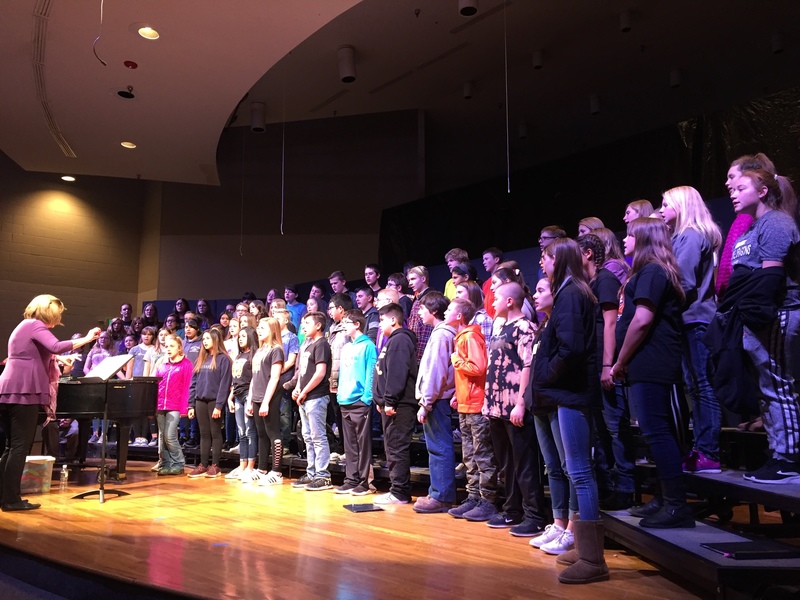 Participating Schools included:
Akron Junior/Senior High School
Holyoke Junior/Senior High School
Julesburg Junior/Senior High School
Wiggins Junior/Senior High School
Wray Junior/Senior High School
Directors:
Akron-Rachel Lowry
Holyoke-Marcia Dalton
Julesburg-Bethany Jacobs
Wiggins-Richard Shaw
Wray-Amy Hickman/Matthew Witt
Guest Conductors:

Teresa Rotert is from Sutherland, NE where she lives with her husband, JIm. They are owners of a 5 generation family business, Rotert Plug and Htg. Their older son Brian,is also involved in the business. He lives in Sutherland with his wife Shannon, and their two daughters . Younger son Matthew lives in Kearney. Teresa is a retired music teacher, having taught for 33 years. She is still very active in the music education field serving as accompanist at Sutherland High School, representing Dist. IV of Nebraska as their NSAA music representative where she coordinates their district music contests, as well as lending her time and talents to direct honor choirs in and around Nebraska. Teresa is also a member of the Nebr. Music Educators Assoc. In her spare time, she loves spending time with her 2 wonderful granddaughters, hunting, yard work, and supporting her Huskers at family game parties!
Margie directs TrebleMakers, and First Voices and is the education and administrative director for Young Voices of Colorado. She recently retired from Metropolitan State University of Denver after teaching there for many years. Margie taught public school music for 30 years and retired from the Cherry Creek School District in 2004 after spending 15 years as choir director at Campus Middle School. She also served the Cherry Creek School District as the music coordinator. Margie is a Southwestern ACDA Past-President and serves as Program Chair for many SWACDA Conferences. She has served Colorado ACDA and Colorado Music Educators Association in many leadership capacities. Margie has served as clinician, adjudicator and director for workshops, contests and honor choirs throughout the United States. Prior to coming to Colorado, Margie taught in San Antonio, Texas. Margie received her Bachelor of Music Degree from Trinity University, her Master of Music from The University of Texas at San Antonio, and her Specialist in Education from The University of Colorado at Denver. Margie is a member of the Colorado Music Educators Hall of Fame.