Holyoke took 47 students to State FBLA on April 18-20 in Denver, Colorado. The Gaylord of the Rockies was the setting for State FBLA, with over 3,000 members competing to place in the top 4 to make it to Nationals in Chicago, scheduled for June 28-July 2.
Holyoke was one of only a 6 chapters in Colorado to receive "Chapter Champion" status, which will earn them a banner at Nationals this summer. Holyoke also ranked in Colorado at Peak 5, the highest honor. To receive this award, Holyoke documented over 100 pages of activities starting from last April through March of this year.
Holyoke qualified more than any other chapter in Northeast Colorado, and ranked as one of the highest percentages across the state in qualifiers. Students from Holyoke qualifying for Nationals this summer include:
1st Place, 3D Animation: Gage Sprague, Johny Quintana, and Kailar Hayes
1st Place, American Enterprise: Hannah Lindholm, Jimena Nunez, and Fatima Nunez
1st Place, Partnership with Business: Diego Jimenez, Cade Killin, and Emmanuel Vasquez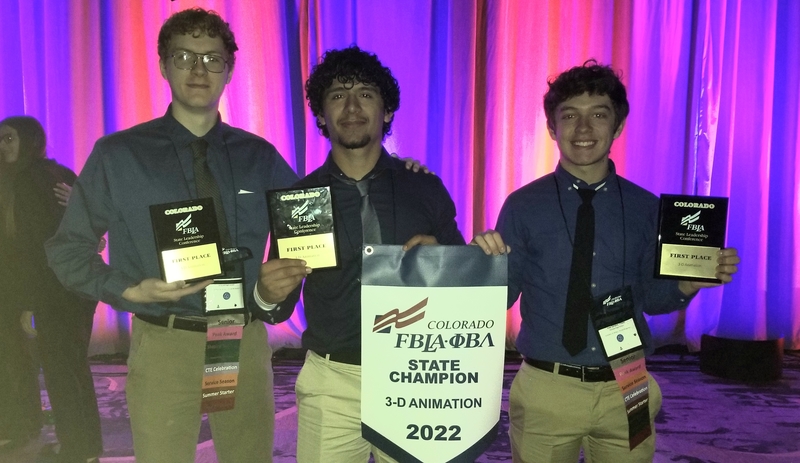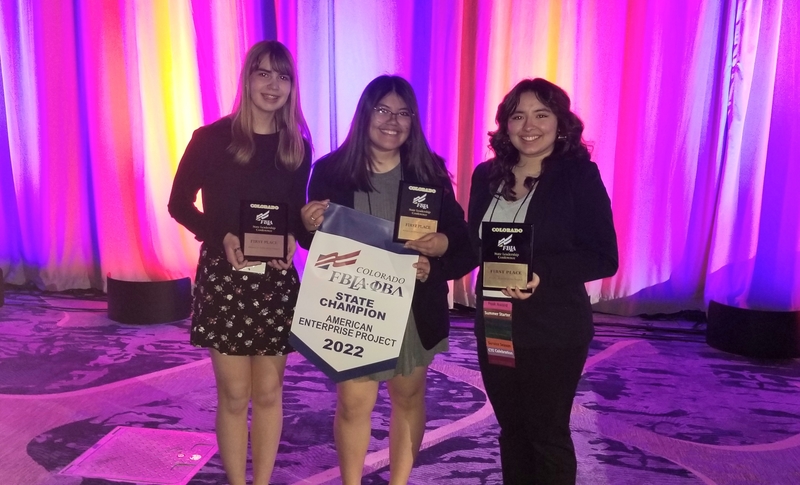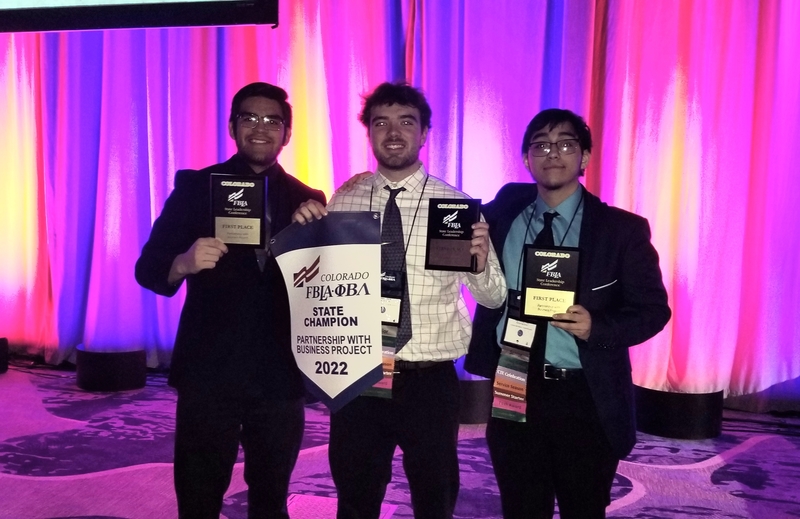 2nd Place, Introduction to Business Concepts: Ben Kleve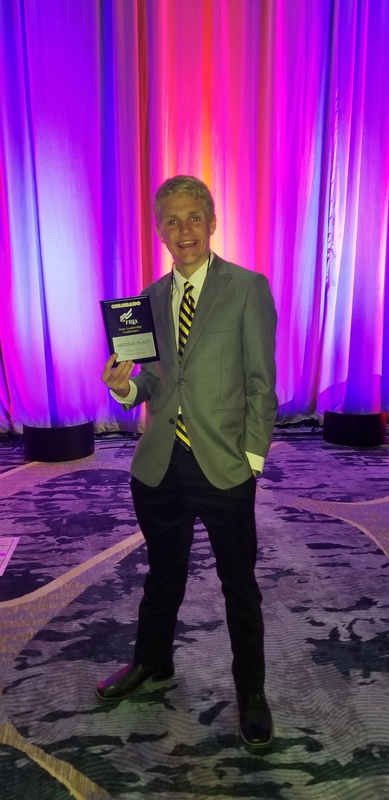 4th Place, Accounting I, Kenneth Lindholm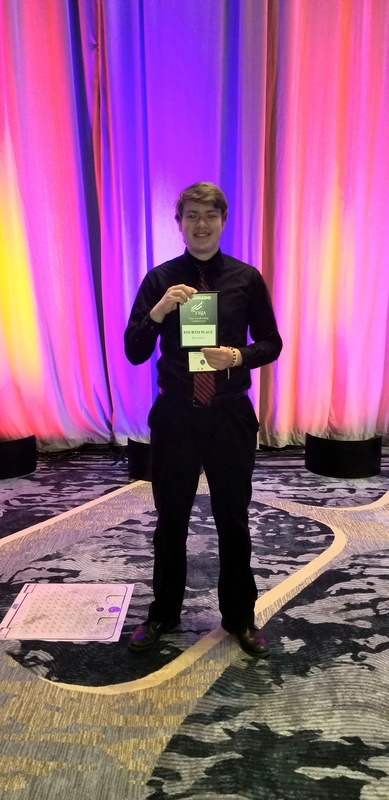 4th Place, Community Service Project: Lauren Herman, Ethan Schneller, and Tayla Martin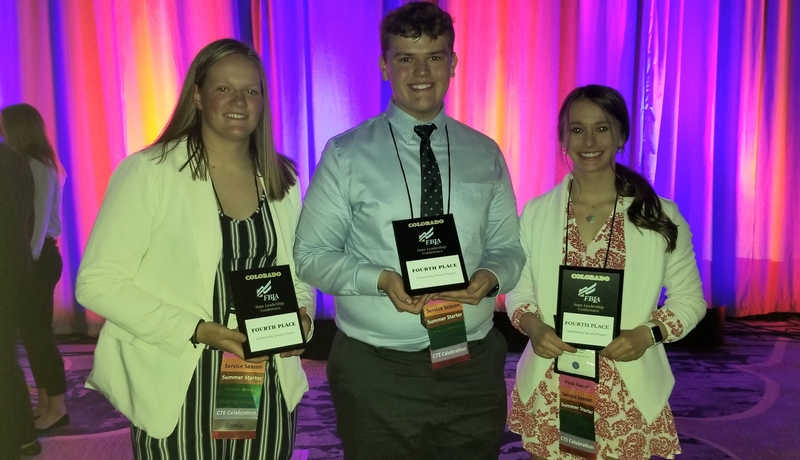 4th Place, Introduction to Information Technology: Leah Struckmeyer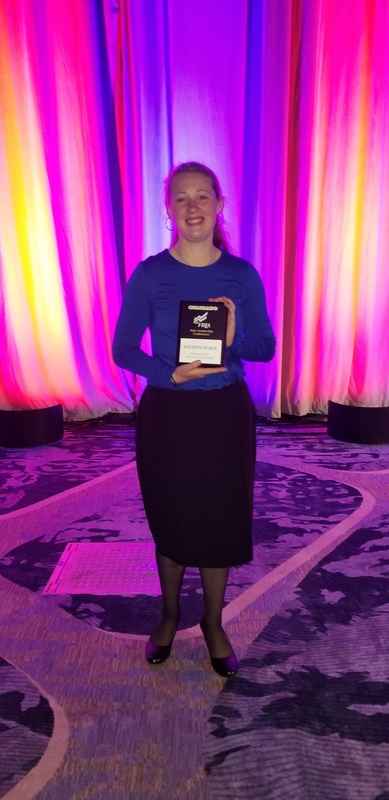 Others placing in the top 10, with a possibility of attending Nationals include:
5th Place, Local Chapter Annual Business Report: Piper McConachie, Kyrah McConachie, and Daniela Fierro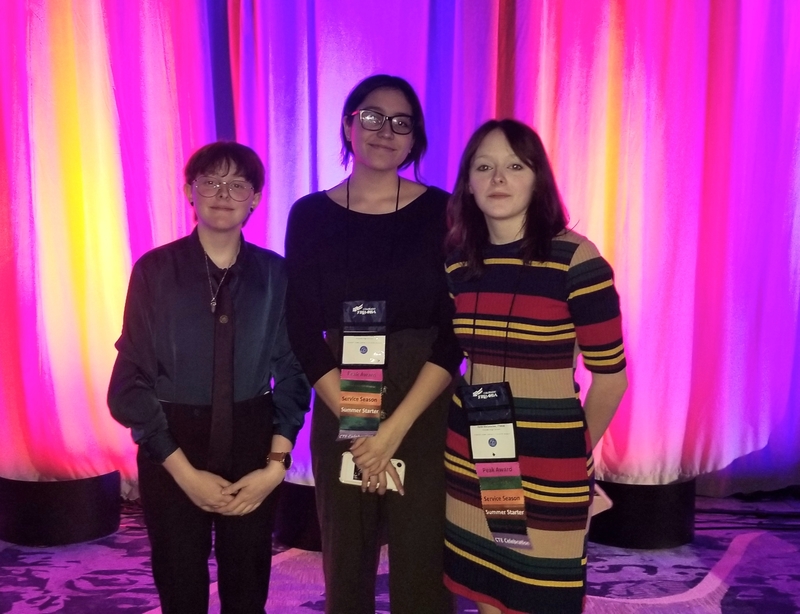 6th Place, Electronic Career Portfolio: Wendy Chaparro
6th Place, Introduction to Parliamentary Pro: Lucinda Mares
7th Place, Organizational Leadership: Jadon Frost
8th Place, E-Business: Sabryn Burris, Clover Adler, and Erin Andersen
9th Place, Word Processing: Summer Martin
10th Place, E-Business: Marcus Laws, Ivan Valenzuela, and Carlos Moreno
Students enjoying an opening ceremony with motivational speaker, Craig Zablocki where he talked about overcoming obstacles. Our own Ben Kleve was even able to join him on stage. Students also went to several workshops when they were not competing. In their off-time they enjoyed the pool and lazy river, bowling, and a Rockies game.
Students attending include Fatima Nunez, Ben Kleve, Marcus Laws, Lucinda Mares, Carlos Moreno, Caiden Krueger, Mason Powell, Luke Roberts, Leah Struckmeyer, Ivan Valenzuela, Adison Goldenstein, Katelyn Kropp, Hannah Lindholm, Tayla Martin, Aleida Millan, Yoselin Pena, Elyce Sisseck, Caden Sporhase, Carter Van Overbeke, Clover Adler, Alma Alejandre, Sabryn Burris, Erin Andersen, Jadon Frost, Daniela Fierro, Cooper Goldenstein, Savannah Vermeulen, Summer Martin, Piper McConachie, Kyrah McConachie, Jimena Nunez, Grace Roberts, Ethan Schneller, Wendy Chaparro, Tristen Ferguson, Kailar Hayes, Lauren Herman, Diego Jimenez, Cade Killin, Kaison Kinnie, Correy Koellner, Jimena Nunez, Rachel Krueger, Kenneth Lindholm, Johny Quintana, Gage Sprague, and Emmanuel Vasquez. Advisers and chaperones attending include Lori Nelson, Kody Timm, Trudy Herman, Summer Struckmeyer, and Colbey Stumpf.