Junior High Briseida Beltran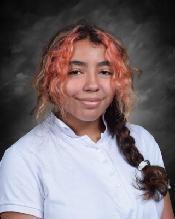 Briseida was nominated by Ms. Mehl. and Mrs. Miles. This student is always quick to help the students in her group no matter which group it is. She is sweet, kind and caring in my class. She also helps when there is a mess to clean up and displays high respect for everyone even if she dislikes them. Brisi is very kind and accepting of all students. She makes a point daily to interact with a life skills student, and it makes his day!
High School Aleida Millan

Aleida by Mrs. Grothman. I would like to nominate Aleida Millan for student of the month. Aleida is a great example of what Dragon Pride looks like. Aleida loves to be involved in school spirit and is first to raise her hand when we need a volunteer. Aleida is not afraid of hard work and strives to always do her best. She is a great role model for the younger students in our building and community of what a future leader looks like. Her no nonsense approach to projects helps get things done. Her kind words of encouragement makes others want to work with her. Aleida is the complete picture of what Dragon Pride is and shines for others to see.