THANK YOU for taking time to provide your views about your child's school!
English: https://bit.ly/3CNLJif
Spanish: https://bit.ly/3Sozmz0
Have you ever wondered how the information gets used?
The School District participates in the Student Centered Accountability Project (S-CAP). The programs vision is to promote and implement an accountability system that is timely, meaningful, considers the whole child and engages community stakeholders in a continuous cycle of improvement and innovation supported by a network of peers. S-CAP emphasizes every student and the whole student including their academic competence, thinking processes and dispositions towards learning. In addition to state assessment results S-CAP considers local assessments, classroom assessment and measures of student engagement, mindsets and post-secondary readiness to provide more meaningful and comprehensive data to describe student success including parent surveys.
The information from your response to this survey will be very helpful to school and district leaders in working to improve the learning experience for all of our students. The survey is completely anonymous. No one will know your identity, not even the University of Colorado Denver researchers administering the survey. If you have children in more than one school, you can take the survey for each school if you wish to do so. We estimate the survey will take about 10-15 minutes to complete on average.
English: https://bit.ly/3CNLJif
Spanish: https://bit.ly/3Sozmz0
S-CAP districts use data related to their comprehensive student success, feedback and evaluation from system support reviews, engage with their local school boards, establish/update district strategic priorities, monitor performance and ensure the district continuously improves its capacity to support student success. Our timeline is represented by the following graphic.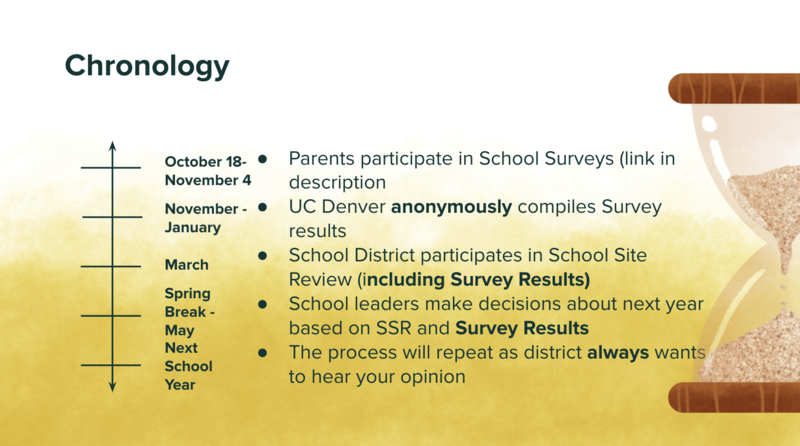 We are joined in the process by 17 other school districts from across the state including three districts from Northeast Colorado (Akron, Merino, and Wiggins).