Junior High, Flor Alejandre: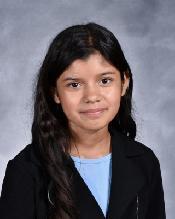 Nominated by Mrs. Brown: I am excited to nominate Flor Alejandre for the October Student of the Month! Flor exhibits an extremely strong drive! She pushes herself to the next level- not only academically, but also, in areas of service leadership to those around her. She encourages those around her by her kindness, attentiveness, and availability to help. In the classroom, she soaks up the content and takes her work seriously. She exhibits R.I.S.E. behavior because it is a great way to live and brings her inner satisfaction and honor. I am honored to nominate Flor!
High School, Yoselin Pena:
Nominated by Mrs. Kleve: Yoselin is the hardest working student I have ever had. She is always wanting to do better on her work and is not afraid to ask for help when she needs it. She helps keep other students on task and on time for assignments. Not only is she hard working in the academic classroom, she is always willing to help with anything. Yoselin has helped with FCCLA events and concessions, FBLA events and concessions, she is also extremely active supporting the junior class. She is the fist to volunteer and will stay to the very end helping clean up and pack up. She is a shining gold star in our student body and we are lucky to have her here.